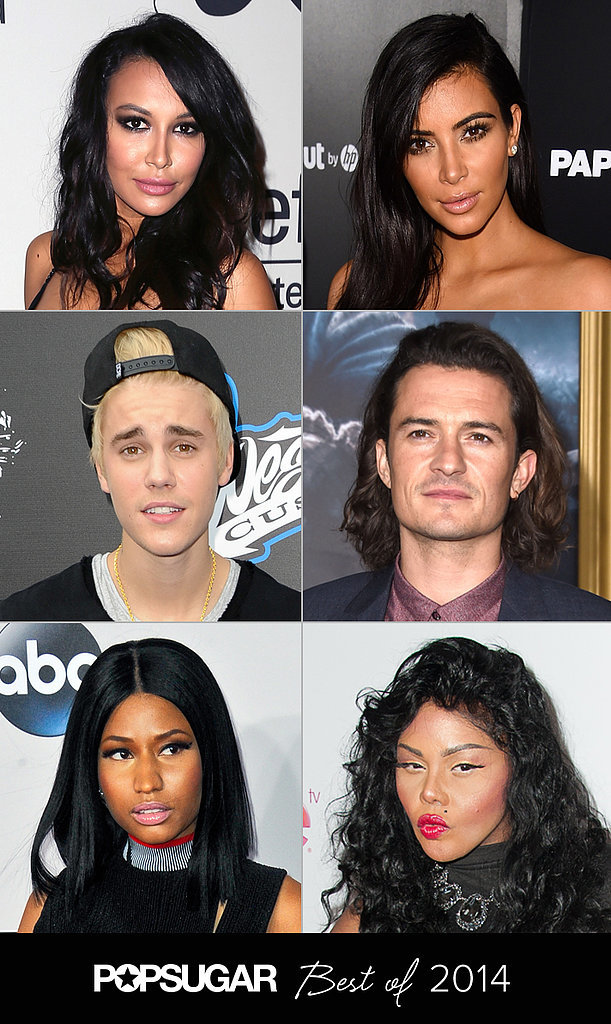 Snoop Dogg vs. Iggy Azalea
Back in October, Snoop Dogg and Iggy Azalea waged a bizarre war over Twitter and Instagram after Snoop regrammed a meme that mocked Iggy's physical appearance. Things took an ugly turn when Snoop starting lodging hateful names at Iggy; calling her a "c*nt" and "a wannabe black b*tch"; and telling her boyfriend, LA Lakers player Nick Young, to "check" her before he did. Snoop later apologized after TI played peacemaker.
Gwyneth Paltrow vs. Martha Stewart
Martha Stewart and Gwyneth Paltrow's professional rivalry heated up in September whenMartha said Gwyneth needed to "be quiet" and stop trying to be the new Martha. (The actress has been fairly open about the fact that she looks up to Martha as a lifestyle guru.) Gwyneth responded by saying that she was "psyched" to see that Martha thought of her and the Goop brand as competition. She also went on to hire Martha Stewart Living CEO Lisa Gersh to run Goop.
Justin Bieber vs. Orlando Bloom
Justin Bieber and Orlando Bloom's feud turned physical when the pair were spottedgetting into a fight inside a celebrity-filled restaurant in Ibiza back in July. In a video of the brawl, Orlando was seen punching Justin, who was escorted out of the restaurant. The jury is still out on exactly why the two got into a fight, but one thing was for sure — most celebrities were on Orlando's side for hitting the scandal-plagued pop star.
Adrienne Bailon vs. the Kardashians
Kim and Khloé Kardashian came to brother Rob Kardashian's defense in July when his ex-girlfriend Adrienne Bailon said that dating Rob and appearing on Keeping Up With the Kardashians hurt her career. (The pair dated from 2007 until 2009, when they split after Rob cheated on her with another woman.) Kim tweeted at the time, "Funny how she says being with a Kardashian hurt her career yet the only reason she has this article is bc she is talking about a Kardashian." Adrienne later clarified that she meant that she was upset that she was more known for "being someone's girlfriend" rather than her own accomplishments.
Adrienne Bailon vs. the Kardashians
Kim and Khloé Kardashian came to brother Rob Kardashian's defense in July when his ex-girlfriend Adrienne Bailon said that dating Rob and appearing on Keeping Up With the Kardashians hurt her career. (The pair dated from 2007 until 2009, when they split after Rob cheated on her with another woman.) Kim tweeted at the time, "Funny how she says being with a Kardashian hurt her career yet the only reason she has this article is bc she is talking about a Kardashian." Adrienne later clarified that she meant that she was upset that she was more known for "being someone's girlfriend" rather than her own accomplishments.Naya Rivera vs. Kim Kardashian
Naya Rivera inserted herself into Kim Kardashian's Internet-breaking Paper photo shoot in November when she left a comment on Kim's Instagram criticizing her for going nude. She wrote, "I normally don't. But…you're someone's mother…" Kim never directly responded to Naya's remarks, but her best friend, Jonathan Cheban, laid into the Glee star, accusing her of trying to copy Kim and work with her. He said in a blog post, "Who the f*ck is Naya to throw in her meaningless comments??"
Ariana Grande vs. Bette Midler
In November, Bette Midler kicked up controversy when she slammed Ariana Grande for being overly sexualized and "silly beyond belief." Ariana took the high road, tweeting that Bette was "always a feminist" and that she wanted "that sexy mermaid back," referencing Bette's onstage persona in the '80s. Bette later responded on Twitter, joking that she's a "reformed old wh*re*" and that Ariana has "a beautiful voice."
Nicki Minaj vs. Lil' Kim
Lil' Kim and Nicki Minaj have had beef for years, but their ongoing feud reached new heights in August when Kim dissed the rapper on her own remix version of Beyoncé's "Flawless" after she felt she was disrespected in Nicki's original verse on the song. Kim later released a new track titled "Identity Theft," which featured a picture of Nicki as the cover art. Nicki didn't take the bait on Kim's latest antics, but she has taken plenty of shots at Kim in the past, most notably in her 2011 song "Stupid Hoe."
Taylor Swift vs. Katy Perry
In September, Taylor Swift revealed that she is not on good terms with fellow pop starKaty Perry when she admitted that her new song "Bad Blood" is about a frenemy relationship she had with another star. While Taylor never explicitly named Katy, she left enough hints for fans to figure it out, and Katy responded by issuing a cryptic tweet about a "Regina George in sheep's clothing." Their "bad blood" reportedly stemmed from Katy hiring two backup dancers for her tour while they were still on tour with Taylor. In November, the feud spilled over to the singers' friends when Katy's boyfriend, Diplo, tweeted about Taylor's apparent lack of a booty. Taylor's pal Lorde responded by mocking Diplo's "tiny penis."